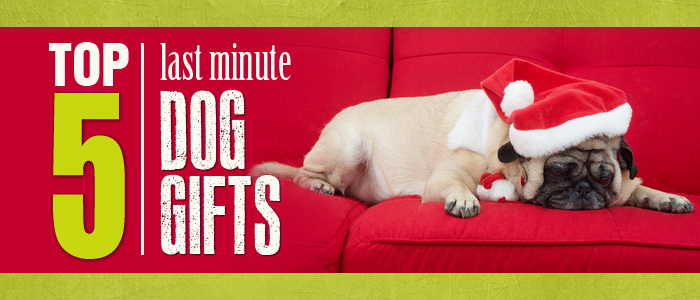 OH MY GOODNESS. How is December nearly half way over? We are thinking the same thing. Many of us still haven't started or made a dent on our holiday shopping lists. Whoops. With the wonder of online shopping this problem is easily solved!
SitStay.com, the holiday gifts for dog headquarters, has THE TOP FIVE last minute holiday gifts for your favorite four-legged family members.
HOMEMADE HOLIDAY COOKIE
Nothing says "MERRY CHRISTMAS" like holiday cookies! Handmade in Boston, these gingerbread treats are the perfect treat for that special morning. HO, HO, WHOA where did that cookie go!?


CANDY CANE BULLY STICKS
Santa Paws can't believe how many dogs have bully sticks on their list this year. These festive candy cane shaped chews are high-quality, born, raised & packaged in the USA. A slam dunk for sure!


"Twist Me" HOLIDAY TREAT CANISTERS
This is our favorite holiday item this year! The retro canister is not only functional (storing yummy treats), it is also entertaining (adorable design)! What's even better is what's inside. The all-natural dog biscuits are made from scratch in a Boston bakery & will satisfy any dog's appetite for a yummy snack. The perfect conversation piece for your holiday gathering!


HOLIDAY SOFT & CHEWY BUDDY BISCUITS
Loved by Ellen & Oprah, these gingerbread chewy treats are a must-add to your doggie pantry this holiday season. Made in the USA & perfect for tossing to your good-dog. Grab one for the neighbor, too. (sharing out of your bag is simply not an option)

WOOFERMAN 4 PACK
Wooferman are 100% beef patties (yep, kind of like a hamburger) that are high in protein & great for your dog. Shaped like little crunchy gingerbread men, Wooferman make the perfect stocking stuffer!
BONUS GIFT IDEA: POO-POURRI The Before-You-Go Bathroom Spray
As dog owners, we talk about, examine it, clean it up and sometimes step in poop. So, when we were introduced to this product (yes, in a bathroom) we had to have it for our SitStay customers! And you HAVE to get it for your co-worker, sister-in-law, best friend & husband! We promise it will be the highlight of the gift exchange! Grab one for yourself, too. It works like magic!
Happy & Healthy Holidays from SitStay!