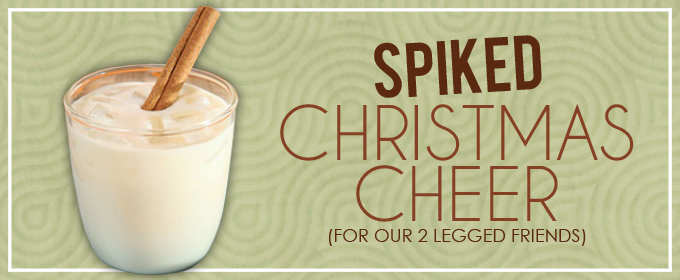 We would also like to offer our two-legged friends some special drinks to share with family and friends round the fire during the chilly holiday season! There are three different varieties (feel free to mix it up with your own favorite beverages, or add your own flare).
Wet Nose
This easy-peasy quick recipe is simple but delicious. Take a few minutes out of the hustle and bustle, and enjoy this yumminess!!
Ingredients:
1 oz. amaretto


1 oz. heavy cream (OR low calorie: vanilla soy/almond milk)


1 oz. vodka
Directions: Mix all ingredients with ice in a shaker. Strain and serve in chilled glasses. Sprinkle a little nutmeg on top for garnish, flavor, and aroma. Drink up!

Twisted Bone
(for the semi-homemade types, takes a little extra time and a few more ingredients)
Ingredients:
1 ounce peppermint schnapps

3 ounces of vanilla vodka

Crushed candy cane for garnish
Directions: Use a rolling pin or a skillet and hammer the candy cane into rough pieces and add a pinch to each glass. Pulverize some even further to use as a rimmer for your cocktail glasses. (tip: don't use water to rim, use lemon or lime juice for margaritas for instance, in this case I would use some yummy chocolate or vanilla flavored vodka--to round out the peppermint schnapps of course). Next, add the remaining ingredients into a cocktail shaker and shake vigorously before straining the contents into the martini glass. Enjoy!

Yellow Snow
(for you all-out Martha Stewart-ers, or those that want to take a little extra time for in-laws or party-goers)
Ingredients:
1 cup sugar

1/4 cup cornstarch
1 teaspoon ground nutmeg

1 teaspoon pumpkin-pie spice, plus more for garnish

8 cups whole milk

6 large egg yolks

3 cups brandy
Directions:


1. Set a large fine-mesh strainer over a bowl. Place the bottom of the bowl in an ice bath and set aside. Off heat, in a medium saucepan, whisk together sugar, cornstarch, nutmeg, and pumpkin pie spice. Slowly mix in four cups of milk. Whisk in the egg yolks.

2. Whisking constantly, cook over medium heat until the first large bubble sputters, 10 to 12 minutes. Reduce heat to low; cook, whisking constantly, 1 minute more. Remove from heat; immediately pour through sieve into bowl. Stir in remaining 4 cups milk. Let cool completely in bowl still set in ice bath.

3. Just before serving, stir in brandy, and ladle into glasses; garnish with pumpkin-pie spice.

Happy Pawlidays,