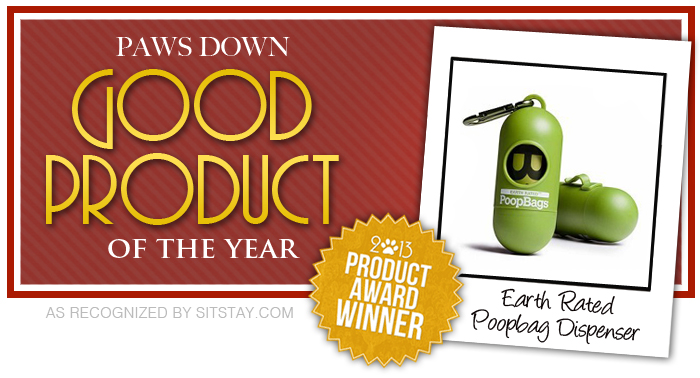 WINNER OF THE 2013 PAWS DOWN GOOD PRODUCT
The Paws Down Good Product Award is given to a SitStay product that is practical for busy, working pet owners like so many of us. This year's winner really fits the bill (actually, only $3 bills)!
The 2013 Paws Down Good Product Winner is: Earth Rated Poopbag Dispenser
The tidy little dispenser houses 15 poop bags that actually smell … lovely (no kidding - the lavendar smell is perfect). They can tuck, sneak and hide in your purse, car, diaper bag, pocket or drawer and can clip to your belt, leash or rear view mirror if you are a hard-core pet dude. Great size. Great price. Great smell (when you are dealing with poop - come on, this is such a bonus). The Earth Rated team are great people doing their part, changing lives one poop pile at a time. Ok, we got a little carried away on that one. They are just awesome!
Get a few! And, peek at all 2013 Winners!