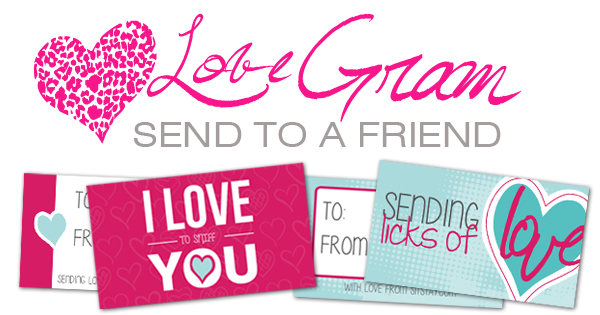 You know that brown eyed, dark fur, 4-legged creature down the street that your dog as been eying now for a few weeks? Well - here's the chance to make a love connection with a LOVE GRAM! Simply fill out the "To" and "From" fields while placing your order, and we will include one of the LOVE GRAMs as pictured above! Enter the mailing address of the lucky dog in the SHIPPING section of your order. (Note: if you are sending to more than one recipient, you must place separate orders for each - only 1 shipping address allowed per order.)
Send LOVE GRAMs with: Heart Barker | Love Birds | Love Licks
Step 1:
Simply add the name of the LOVE GRAM receiver
Step 2:
Enter the mailing address of the recipient in the SHIPPING section of your order (only 1 shipping address per order)
Step 3:
Let your heart thump with joy - your Valentine will be so surprised!
SIT. STAY. SEND SOME LOVE!