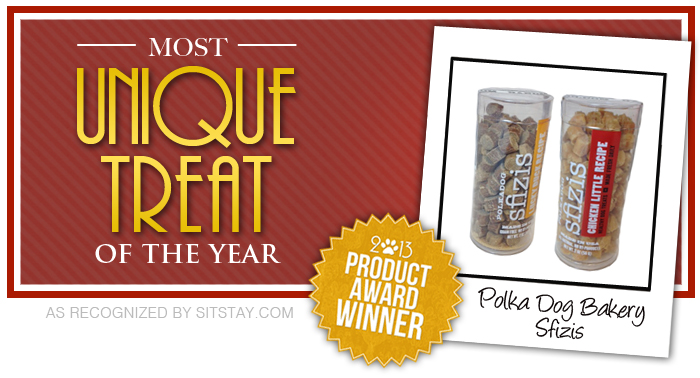 2013 MOST UNIQUE TREAT OF THE YEAR: POLKADOG BAKERY - SFIZIS
The SitStay dog treat category is our favorite category by far, it is also our largest.
That means the winner of the Most Unique Treat of 2013 is up against steep competition. This year's winner came to us late in the year and almost snuck by the final ballot count of this years Annual Product & Brand Awards. Polkadog Bakery's Sfizis have the potential to get overlooked in the crowd (they're so darn little) but once you meet these little guys you will fall in love with their versatility and your dog will fall in love with their flavor!
"Sfizio" is an Italian word that means "to satisfy a whim" and was the inspiration for these protein-packed, unique morsels.
These all-natural treats are baked in a Boston bakery using organic ingredients that are all sourced in their backyard; made in the USA. The healthy dog treats are packaged in a convenient container that is dainty enough to fit in your purse, pocket, treat pouch, glove box or fanny pack during a morning dog run - perfect for the active dog lifestyle. The ingredients are minimal but the conveniences are tremendous. Sfizis are low-calorie and ideal for training rewards. And, with a little shake, these treats serve as an attention grabber to create teaching opportunities for your dog or new puppy. Sit. Stay. Shake!
Sfizis satisfied our whim and quest to find the Most Unique Treat of 2013.
Evviva! Find your whim!