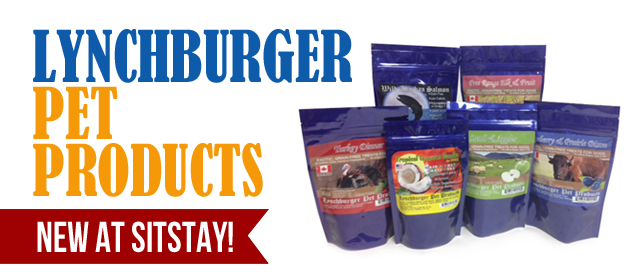 We're excited to announce the new addition of Lynchburger Pet Products to SitStay's shelves. Lynchburger is a unique company. With products that are proudly made in the USA and Canada, Lynchburger strives to sell the highest quality products. The company is built on the belief that their customers' needs are of the utmost importance.
Lynchburger offers many dog treat options that come in a variety of flavors, shapes, and sizes. These grain-free treats have no artificial colors, flavors, or preservatives. Packed with nutrition, there's no room for added sugars, salt, or fat. SitStay is proud to carry the following treats:
Lamb & Apples: Hormone and antibiotic free lamb is combined with unsweetened applesauce, making these treats an excellent source of lean protein and fiber.
Wild Alaskan Salmon Nuggets: Salmon and kelp are combined to offer a natural source of Omega-3 in a low calorie treat. With one of the most unique textures we've seen, this treat can best be described as a semi-crunchy exterior with a moist cake-like interior.
Free Range Elk & Fruit: This duo creates an exotic combination of flavors that your dog is sure to love. Cut in cube shapes, these crunchy treats are perfect rewards or tossable snacks for your dog.
Tropical Coconut Superfood: Rich in fiber, antioxidants, calcium, and iron, this treat is made with coconut, garbanzo beans, and lentils. These ingredients help regulate blood sugar levels and are also rich sources of proteins and minerals that boost your dog's immune system and help burn fat.
Blueberry & Prairie Bison: Made from grass-fed bison, meaning they are hormone and antibiotic free, these crunchy treats are a great source of protein. The delicious addition of blueberries throws antioxidants into the mix, which makes this treat a great way to add new flavors to your dog's treat options.
Turkey Dinner: These flavorful turkey treats offer hints of pumpkin and cinnamon, bringing some favorite flavors of Thanksgiving to your dog's bowl year-round. Festive treats that are grain-free and delicious.
You and Buddy won't be disappointed with any of these delicious, grain-free treats.