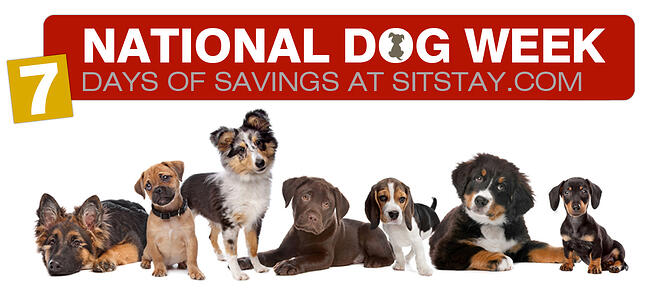 Today SitStay.com kicked off 7 Days, 7 Ways to Save and Celebrate National Dog Week.
I'll be honest, every week is a dog's week at our home. We have a 4 year old beagle, Dexter, who has wiggled his way right into our hearts (and beds). And, like so many of our customers, we get a little giggly when we are reminded to celebrate our love for him.
Most holidays remind us to do more of the things we love. Whether you are a dog owner or not, we encourage you to pause and do good in honor of man's best friend. Here are 7 ways to participate in National Dog Week.
1. SHARE
Share your time and a dime by volunteering, donating or adopting from your local animal shelter. Your helping hands and loving heart is always needed.


2. PAW IT FORWARD
This is our favorite; when you see pet parents out and about with their dogs, pay them a complement, say hello or even share one of your favorite treats.


3. SPOIL! SPOIL! SPOIL!
Let's face it, the best way to celebrate is with a little pampering ... endulge your dog with an unexpected trip to the groomer, new treat or stylish new collar.


4. GET READY
Ntaional Dog Week is the last week of September which also happens to be about 80 days until Christmas. HOLY COW! I mean HOLY DAWG!


5. GATHER
Host a
only pets allowed
party this week with an assortment of fun goodies such as
Brown Beggers Chew Sampler
, serve fresh water in plastic martini glasses and organize lots of backyard playtime. Don't forget the
poop bags
(these also make great gifts for your guests).
6. GET MOVING!

Most of us are enjoying outdoor-friendly weather this week. Get on those sneakers,
DOOG walking belt
and quality harness and get moving. Perhaps an evening walk after a long days work - how about packing a picinic basket. Nothing is better than an interactive game of fetch - we just got these
new toys
at Sitstay.com and LOVE them!
7. LAST BUT NOT LEAST ... PLAY, PLAY, PLAY!
There are very few moments that can compete with the joyful feeling we share when playing with our dogs. They are happy, tails are wagging, slobber is flying and at that moment ... life is good. Life with a dog is indeed the
GOODLIFE
! Amidst your busy schedule, be sure to take the time and play, play, play!
Happy National Dog Week!