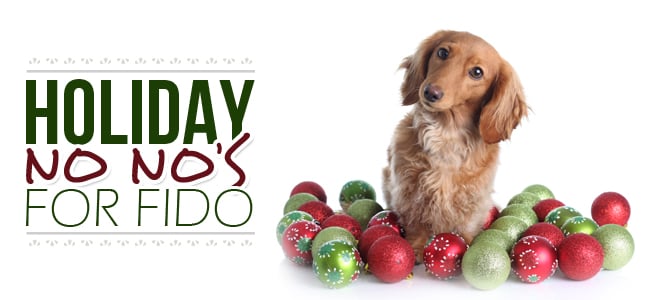 Food around the holidays is the FIRST thing on everyone's mind. A very close second on your mind should be food safety! Especially when your four-legged family members have joined the party.

Animal Planet offers a great article on foods to be wary of feeding Fido! A few we thought you needed to be especially careful when in the full swing of the holidays are:
Raw meat or meat with bones--choking hazard and possible contamination/bacteria (* We suggest when buying chews opt for bones not rawhide, but bones specially dried and approved for doggy consumption! Try a few HERE that we absolutely love!

Alcohol, although this one may seem like a no brainer, spiked holiday cheer should be spread to all, except for puppies *also those 2-legged friends that are not legal age! It is very digestion for them to consume alcohol.

Yeasts and doughs: be especially wary when baking! You shouldn't be licking the spoon and Spot definitely shouldn't be either! Keep them out of Paws way
The American Veterinary Medicine Association also offers some helpful tips to follow during the holidays!
Secure trees and holiday decor. Sharp and heavy objects DON'T want to be falling on your pooch..and dangerous objects are clearly the most fun looking ones to play with!

Be careful of open fires and candles..those tails are flammable, especially on low tables and fireplaces.
Keep Holiday plants away--Holly and Mistletoe are dangerous to dogs health *call the vet if ingested
Offer Alternatives to your pooch, instead of just "NO, NO, NO". Here is an awesome idea for a Holiday Cookie Exchange Party that is safe for pups, OR a great recipe for Meaty Holiday Feast Puppy Chow. If your thinkin cap is really on you could take this Meaty Holiday Feast Puppy Chow to the Cookie Exchange ;)
Here at SitStay we truly want the best, safest, & yummiest holiday season & new year for YOU and your Good Dog!! As always, we would never offer a product or information that we wouldn't give to our own pets!
From the SitStay Family,
Happy Holidays