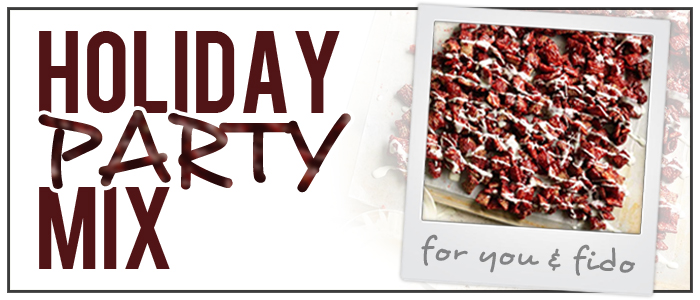 Holidays are sometimes about throwing a little bit of what you have together. Whether it is your wacky in-laws, second cousins, and your sister and her 5 kids all in the same house, or the ingredients in the pantry for a last minute dinner party, you have to be quick on your toes.
When you are throwing the PERFECT Holiday Party you absolutely need the perfect recipes--for two & four legged guests alike. At SitStay we are ALL about the healthy & nutritional benefits, but also just winging it sometimes. So add your own flare to the recipes, & don't forget to put in a lot of love and holiday cheer.
Puppy Holiday Mix Recipe: (this is a trial and error recipe, so add a little, take a little away, put YOUR flare on it, you know your pooch best)
Meaty Holiday Feast Puppy Chow
In a large bowl combine all dry ingredients (treats and chews listed..or those of your choice)

Add the Pumpkin Seed Oil (this stuff is unbelievable! Read more about it)

Garnish with the Bacon Roll (or your pup's favorite chew)

Make sure to only serve minimal amounts to furry friends everywhere--this mix is packed with a lot!
Human Holiday Mix Recipe: original recipe found at CHEX
Red Velvet Santa Hat Christmas Party Mix
6 cups Chocolate Chex Cereal

½ cup packed brown sugar

⅓ cup butter

3 tablespoons corn syrup

1 drop red gel food coloring

1 cup Devil's Food Cake Mix (use the leftovers to make a mini batch up cupcakes..cut the recipes on the box in half)

½ cup cream cheese frosting (or make your own, SUPER easy)
In large microwavable bowl, place cereal; set aside. In medium microwavable bowl, microwave brown sugar, butter, corn syrup, food color and cake mix uncovered on High 2 to 2 1/2 minutes or until mixture is boiling. Immediately pour over cereal; toss until well coated.

Spread on waxed paper. Cool 5 minutes.

In small microwavable bowl, place frosting; microwave uncovered on High 20 seconds. Drizzle over cereal mixture. Store loosely covered.