This holiday season, make sure to share the love with your 4-legged friends! We've assembled some ideas and goodies for you so that you can host your own "Holi-Paw Party"! Yes - a dog party, a HOLIDAY dog party! (Okay, it may just be more fun for you, but how cute will it be to get all the 'fur-babies' on the block together?)
First, start off with a game of "Hide the Cookie", followed by some good ole' fashioned "Tug Of War" , and by now, the crew will be ready for a chewin' snack, so open up a Brown Beggers Chew Sampler to satisfy everyone's craving. Just incase anyone gets too excited, it would be a good idea to keep some clean-up supplies on hand.
It wouldn't be a legit party if there weren't party favors - so, everyone at your party with 4 legs should walk away with their own SitStay stocking and holiday tag!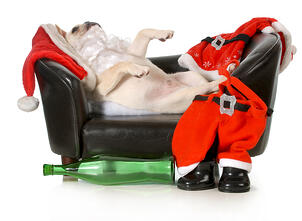 Food & Drink for Humans:
1) Holiday Martinis
2) Red Velvet Santa Hat Mix

Food for Dogs
1) Christmas Day Dinner
2) Merry Chewmas Bully Sticks
3) Meaty Holiday Feast Puppy Chow
We've even put together an invitation you can print out, and also a header for a Facebook event.
Download Printable Invitation >
Download Facebook Header >