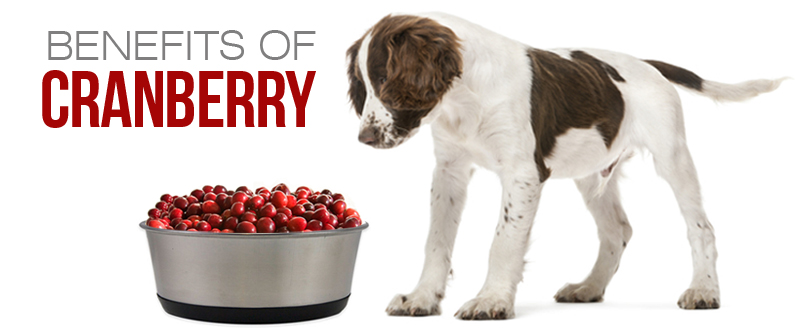 Lets start from the top: cranberries are dominantly found in United States and Canada, and also in a few other locations across the world. These vine-grown, water-and-sun-harvested fruits hold benefits for you AND Fido!
Why add cranberries to your dog's healthy diet?
Cranberries contain anti-inflammatory and anti-microbial qualities which prevents the growth of E. coli, H. pylori, and many other GI related pathogens. The cranberry holds benefits to your dog's pearly whites - proteins found in cranberries inhibit acid production and allow teeth to defend against oral bacteria, which means those doggy kisses we all love will come with fresh breath (well, most of the time).
Cranberries also contain a high level of the antioxidant, polyphenols. Recent findings show that cranberries interact with cellular signaling cascades, regulating the activity of transcription factors and consequently affecting the expression of genes. They have been shown to affect the expression of microRNAs (miRNA). miRNAs are small, noncoding RNAs implicated in the regulation of gene expression that control both physiological and pathological processes such as development and cancer. We never really know if or how we can truly prevent, but making quality choices on behalf of our faithful friends is a great way to do our part in trying.
Additional Benefits
Just like humans, dogs can contract urinary tract infections. And, just like humans, including cranberries in their diet helps cure or prevent a UTI. Cranberry is a natural cleanse for dogs with urinary problems, but should be consumed in the form of a healthy dog treat, food or supplement containing cranberry, NOT in the form of cranberry juice meant for human consumption.

A few of our favorite cranberry-kissed products that we feed our SitStay.com dogs:
Natual Balance Turkey, Oatmeal & Cranberry
These treats offer a unique combination of protein, carbs, and anitoxidants.

Homestyle Venison & Cranberry Dinner
Addiction's Raw Dehydrated food combines the superior nutrition of raw food with the convenience of dry food.




Chicken & Veggie Jerky Bars

USA-made Jerky Bars feature real meat as the first ingredient and combine premium fruits and vegetables for a balanced, grain-free jerky treat your dog is sure to love.
See more of our cranberry products >