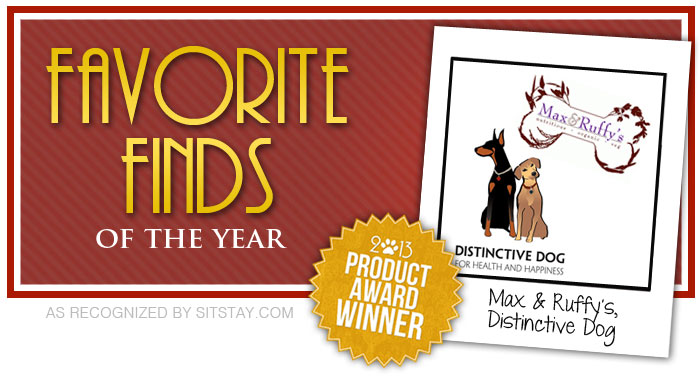 SITSTAY.COM FAVORITE FINDS OF 2013 AWARD WINNER
Our Favorite Finds go to the companies & products that tug at our heartstrings, make us jump for joy, and truly get us excited for offering you and your pup's the best quality products we possibly can!
Our favorites encompass all that SitStay.com is proud to offer to our own dogs and yours: wholesome ingredients, innovation, high-quality, functional and just darn good! We aren't the only one's jumping for joy, they were given four paws up (we must have counted that while they were rolling over) from our pups & 100% good dog approved. These are just down right great products made by great people.
Unlike other years, this year we could not choose JUST ONE favorite (the more the merrier), so our Favorite Finds of 2013 go to: Max & Ruffy's Organic Vegan Treats and Distinctive Dog Functional Treats.
Max & Ruffy's Organic Vegan Treats come in a culinary cornucopia of flavors that often make our mouths water. The treats are petite, firm and truly have authority within a category overloaded with options. The nutritious morsals hold their own in the package, your pocket or training pouch and make the perfect low-calorie reward for your good dog. Max & Ruffy's brand is built on integrity which adds tremendous comfort when making product choices for our dogs and yours. Paws down - these are ever so worthy of this award!
Distinctive Dog Functional Treats is another line of dog treats that we are extremely thankful for. The savory and tempting recipes add a flair of sophisticated gourmet to your dogs' diet while the coconut oil adds tremendous nutritional value.
We read a great deal about balancing your dog's diet and hear about their concerns of feeding treats in general; stating they are not necessary in a dog's diet. We don't disagree when it comes to overfeeding low-quality but do disagree when given the option of feeding high quality treats that offer condensed vitamins and minerals dogs don't get in dog food alone.
Both treat lines are must-adds to your pantry. They are indeed one of the very best in the pet industry market!