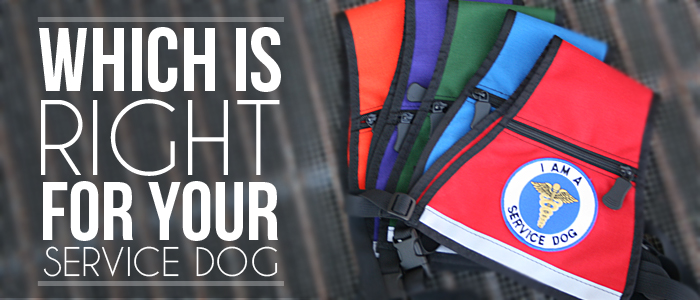 Many service dog vest suppliers offer a range of fabric colors, we have 5 colors in our selection. Our customers often ask us if there is importance behind service dog vest colors. The simple answer is, NO. It is a personal choice for each service dog owner.
However, it is common practice for hearing dogs to wear blaze orange. It isn't a law, there are several hearing dogs that wear different colors but it is a category of service dogs that has the most consistency.
Things that might influence your service dog vest color:
Colored Classmates - Your training school might have a common color they use for graduated dogs


Patch colors – select a vest color that contrasts well with your patch colors to improve their visibility


Pet style – let's face it, all dogs have their own personalities. Feel free to pick a vest color that best represents your dog's style.
SitStay service dog vests are available in red, blue, dark green, blaze orange and purple. Which colors are most popular amongst our working friends – red & blue! Check them out!
While we are on the topic of color - we thought this was interesting! The colors on the left are what a human sees. The colors on the right is what a dog sees. Good to know!