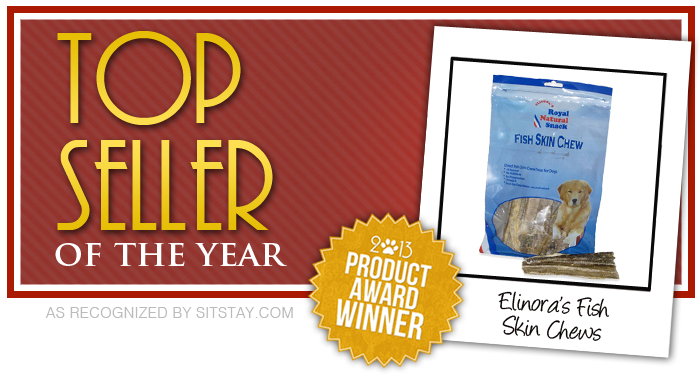 #1 BEST SELLING DOG PRODUCT OF 2013
We love this award because it truly is a great indicator of our customers' favorite product! The winner of this award competes against all 5,000+ products in the SitStay.com store, ranging from doggie diapers to service dog vests. This year's best seller is favored by so many thus the recommendation comes straight from loyal customers and good dogs. Drum roll ...
The #1 Best Seller of 2013 goes to: Elinora's Fish Skin Chews.
Elinora's Fish Skin Chews was not only a favorite, but almost seemed to take on a cult-like following. After a dog owner introduces these to their four-legged friends they quickly inquire about our bulk discounts! The omega-3 filled, nutritious chews are a great alternative to bully sticks and have a fresh fish taste that keep dogs megging for more. When we asked our customers for holiday gifts for dogs recommendations, Elinora's Fish Skin Chews gift sets were top on the list.
We source these chews directly from Elinora, the founder and avid dog-lover, in Iceland. Our long-standing partnership with her helps us ensure quality in every bag. Nutritious, affordable, award-winning. What more can we say?
Dogs across the globe have barked. And, this is their favorite!