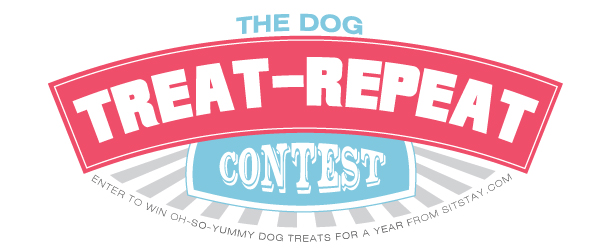 LINCOLN, NEB. - Jan. 24, 2014 - SitStay.com, the destination site for 'Good Dog' approved treats and trinkets, today unveils our favorite contest of the year - The Dog Treat-Repeat Contest. One lucky duck dog will be "treated" like a king or queen for an entire year. The winner will receive a high-quality all natural treat from SitStay's award-winning treat deli each month that best suits his or her sass and style.
COMPLETE THE FORM FOR A CHANCE TO WIN! The winning dog will be notified on Valentine's Day, Feb. 14, 2014, using the email address entered in the form. After we make contact and gather a bit more information from the pet parent ... the spoiling will begin. Multiple dog households are WELCOME! Simply complete and submit a separate form for each dog.
SitStay will also select random winners to receive exclusive treats and merchandise courtesy of ShinDig Dog™ - dog treats for the occasional celebration and Brown Beggers™ Deli & Treatery. These winners will also be notified on Feb. 14, 2014.
Entries BEGIN- January 24, 2014 (9:30 AM, CST)
Entries CLOSE- February 13, 2014 (8:30 PM, CST)
Entries received after CLOSE will not be eligible.
(1) full-sized, high-quality dog treat will be sent the first week of each month for twelve months.
Cash value of the treat can not be redeemed through any other transaction.
Winning dog and/or pet parent may be asked to appear in public relations releases that may include Facebook posts, Twitter mentions, video opportunities and/or television broadcast. Winner must be willing.
Sit. Stay. Compete! Whatcha waiting for!